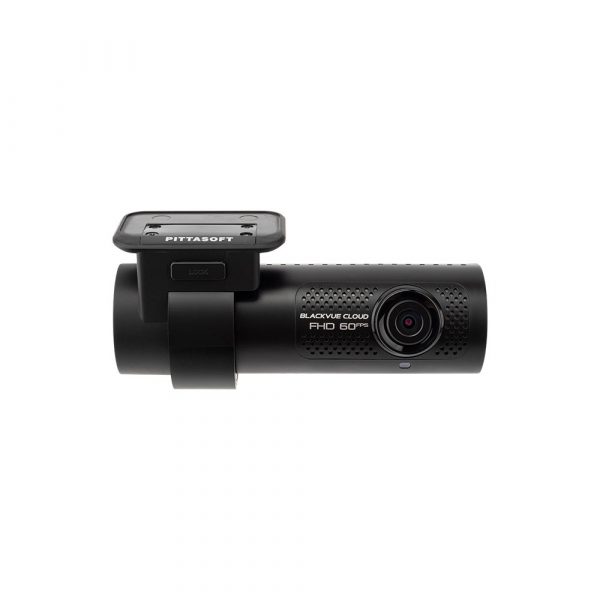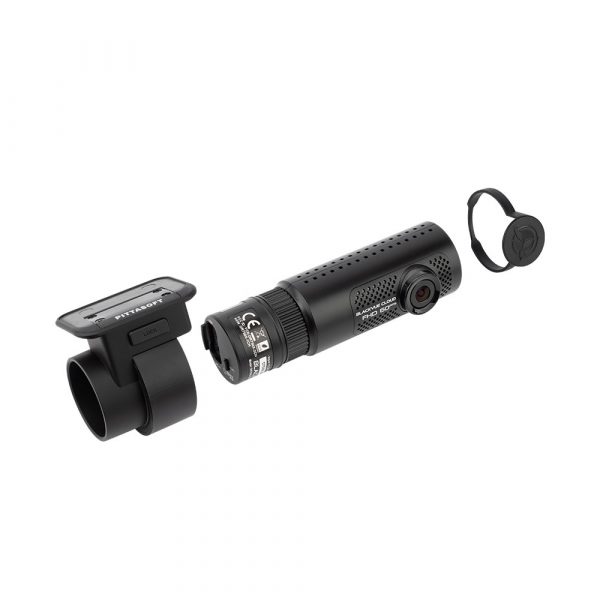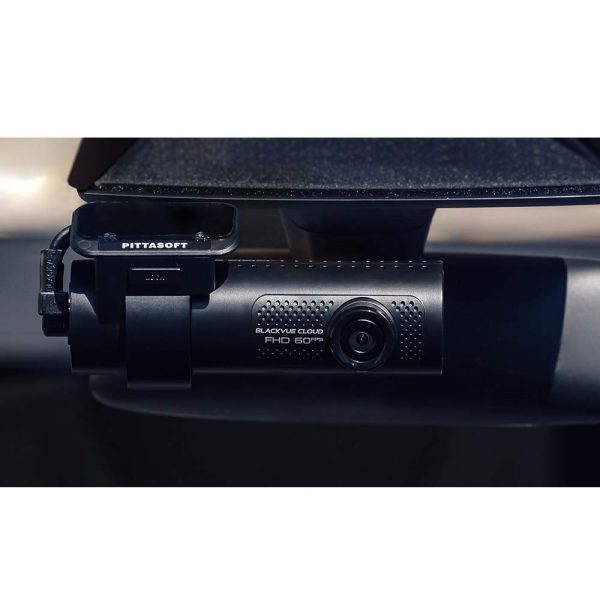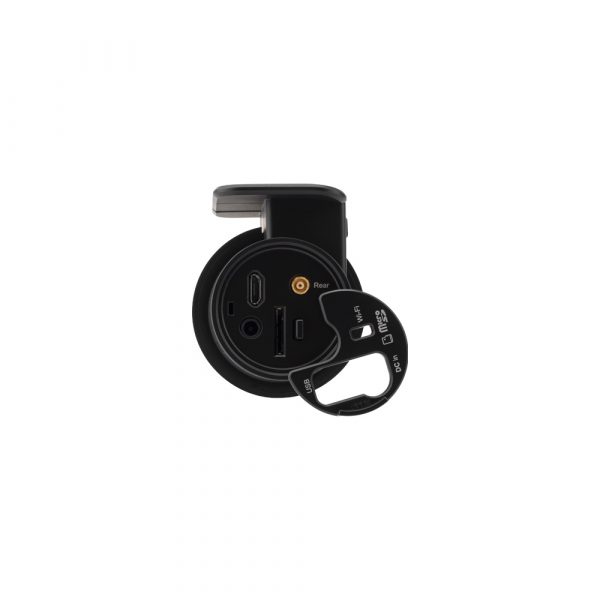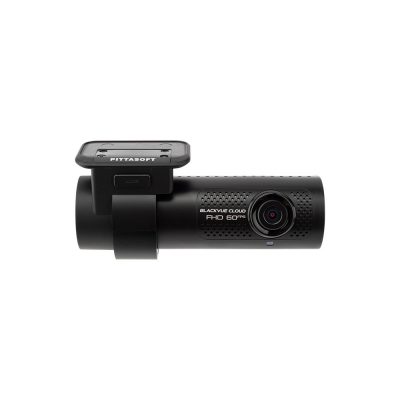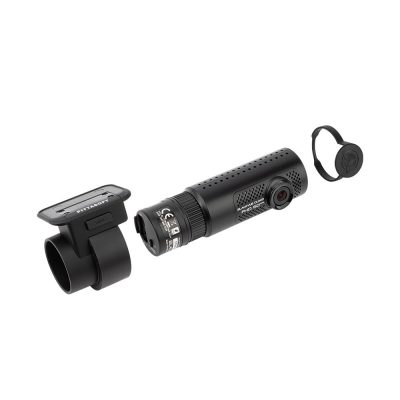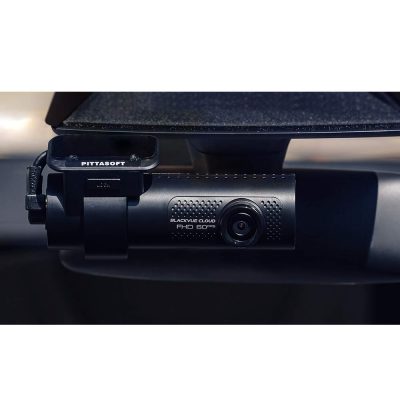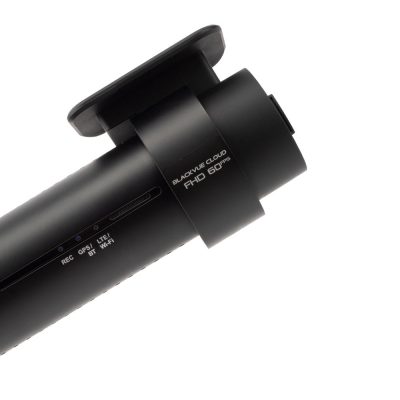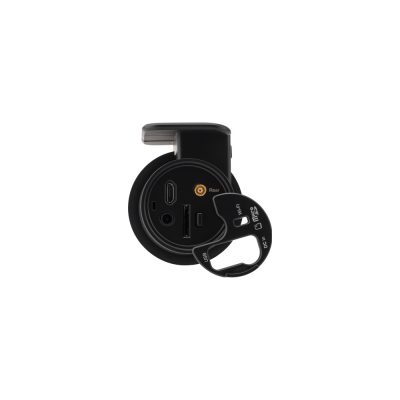 Blackvue DR750X-1CH
£299.95 – £569.95 inc. VAT
CLOUD CONNECTIVITY & ROCK-SOLID PERFORMANCE
The DR750X-1CH is a single-channel dashcam with BlackVue Cloud connectivity.
The Full HD Sony STARVIS™ image sensor gives you best image quality under any light.
This stealthy dashcam also packs built-in GPS, Wi-Fi and native Parking Mode support via included hardwiring cable.
View and download videos easily with the BlackVue App.
Cloud support via Wi-Fi router or optional USB plug-in LTE module.
---
Performance and Functionality
Sony STARVIS™ sensor with Full HD 1080p at up to 60 frames per second.
Record fluid videos at a wide 139° view angle.
The STARVIS image sensor ensures that your dashcam captures critical details even in low light.
Native Parking Mode with built-in voltage monitor to protect your vehicle battery (hardwiring cable included).
With the free BlackVue Cloud service, check on your car from anywhere, anytime.
---
Native Parking Mode
Hardwiring cable included
DR750X Series can be hardwired to your vehicle's fuse panel for Parking Mode, without requiring optional accessories. The dashcam will switch to Parking Mode automatically when vehicle ignition is turned off. Voltage cutoff and timer can be set in the BlackVue App.
Parking Mode accessories support
DR750X Series is also compatible with all BlackVue Parking Mode Kits and Batteries.
---
GPS, Wi-Fi and Optional LTE
GPS: visualise the location of your vehicle on the map during video playback and overlay speed on videos (can be hidden in settings).
Wi-Fi: lets you connect to your BlackVue with a smartphone or tablet. Wi-Fi also lets your BlackVue connect to BlackVue Cloud via any home or mobile Wi-Fi hotspot (router).
LTE: connect the optional LTE connectivity module* via the USB port for the best Cloud experience.
(*) SIM card not included.
---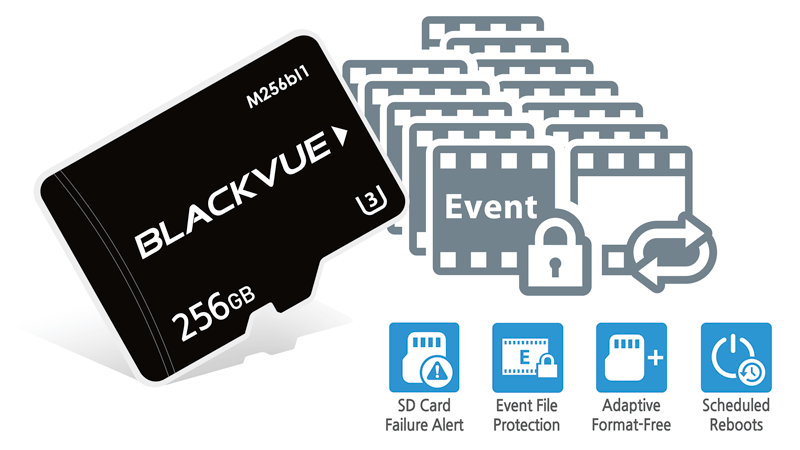 Event Files Overwrite Protection: dashcams record in a loop, overwriting older files when the memory is full. BlackVue can prevent Event files (triggered manually or by impacts) overwriting. Up to fifty (50) files can be protected this way. You can choose to allow new Event files to overwrite past Event files, thus keeping the latest fifty.
Adaptive Format-Free File Management: this BlackVue-developed file system improves recording stability and requires less microSD card formatting.
SD Card Failure Alert: your BlackVue detects as soon as the microSD card fails and warns you with a "Please check SD card" voice alert.
---
Built-in Impact & Motion Detection
Automatically tags important files
While driving, your BlackVue detects impacts and sudden changes in speed. While parked, it also detects movements*.
Use the filters in the BlackVue App and Viewer
All videos are tagged (Normal, Event, Parking Mode motion or time lapse), so that you can easily find the relevant ones in the BlackVue Viewer for Windows and Mac OS or the BlackVue App for Android and iOS.
---
Sleek Interface
Programmable proximity sensor 
Toggle audio recording ON and OFF by simply waving your hand in front of it. The sensor can also be configured to trigger Manual Event videos in the settings.
Wi-Fi button
Turn Wi-Fi ON/OFF with the push of a button. All actions are confirmed by a voice prompt.
---
BLACKVUE APP (IOS, ANDROID) AND VIEWER (WINDOWS/MAC)
EASILY MANAGE YOUR VIDEOS AND ACCESS CLOUD FEATURES
Both the BlackVue App and Viewer are free to download and use.
Easily change your BlackVue configuration browse through your videos intuitively, either from the SD card or over the Cloud.
With the BlackVue App, access your BlackVue's videos over Wi-Fi or the Cloud and check real-time Live View for perfect positioning of your dashcam.
---
BLACKVUE CLOUD
ME AND MY CAR. CONNECTED. 
Let BlackVue watch over your car and warn you of incidents, like impacts, via Push Notifications. Connect to your BlackVue anytime, from anywhere and check on your car with Remote Live View.
Play recorded videos remotely and back up important ones to the Cloud or your phone.
Enjoy Two-way Voice Communication with the driver from the app through the BlackVue's integrated speaker and mic.
---
LTE Connectivity Module 
The CM100LTE connects to your compatible BlackVue X Series dashcam to provide easy 4G LTE connectivity. All you need is a valid Nano SIM card. The CM100LTE connects via the USB port of your dashcam. Your BlackVue powers the module and automatically accesses the Cloud when the module is plugged in.
Note: when purchasing, make sure the CM100LTE you choose is compatible with your mobile carrier's network. Not compatible with DR590X Series.
---
BlackVue automatically switches to Parking Mode to monitor your parked vehicle. Thanks to video buffer, the few seconds leading to triggering events are also recorded.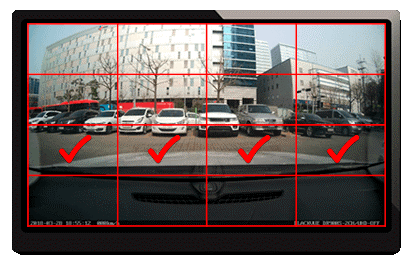 Motion & Impact Detection Parking Mode detects both:
Motions recorded by the image sensor (marked "P" in the file list).
Impacts detected by the accelerometer/G-sensor (marked "E" in the file list).
Choose detection regions to reduce the risk of triggering unwanted motion recordings due to trees swaying in the wind, far-away moving objects, etc.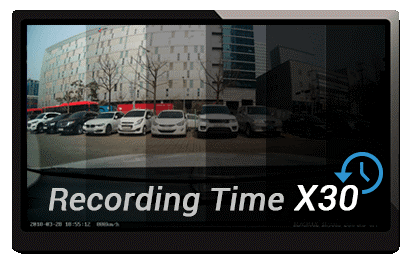 Continuously records at 1FPS (one frame per second). Videos are played back at 30FPS.
1-minute Time lapse Parking Mode video = 30 minutes real time coverage.
Cover a period of more than 54 hours on a 32GB microSD card front and rear at the highest (Extreme) quality setting. When an impact is detected, the dashcam creates a buffered Event video.
And also:
Parking Mode Event Voice Notifications:
Upon exiting Parking Mode, your BlackVue tells you if Events were recorded when you were away from your car, so you can check right away the Event videos on the BlackVue App.
Scheduled Reboot:
Schedule a daily automatic reboot (optional—at night by default) to minimise potential errors. Reboots happen only if the dashcam is in Parking Mode and not writing data to the microSD card.
Super stealthy:
Completely turn off all LED indicators in Parking Mode. Only the recording LED indicator facing the interior of the vehicle will blink when motion or impact is detected.
Specifications

Model Name

DR750X-1CH

Channel

1CH

Highlights

Full HD, Cloud, Wi-Fi, GPS, Sony Sensor, External LTE Module

Product Dimensions

W 118.5 mm (4.67″) x H 36 mm (1.42″) / 103 g (3.63 oz)

Memory Support

microSD card up to 256GB

Recording Modes

– Normal,
– Event (Impact Detection / Speed Limit / Manual),
– Parking Mode (Impact+Region-based Motion Detection, Timelapse+Events)

Parking Mode

YES (with 3-wire hardwiring cable – included)

Parking Mode Event Voice Notifications

YES

Imaging Sensor

Sony STARVIS™ CMOS Sensor (Approx. 2.1MP)

Viewing Angle

Diagonal 139°, Horizontal 116°, Vertical 61°

Resolution Frame Rate

Full HD @60fps
* Frame rate may vary during Wi-Fi streaming

Video Codec

H.264 (AVC)

Image Quality and Bitrate Front/Rear

Highest (Extreme): 25 Mbps
Highest: 12 Mbps
High: 10 Mbps
Normal: 8 Mbps

Format Free

YES (Adaptive)

Event File Overwrite Protection

YES (up to 50)

SD Card Failure Alert

YES

Scheduled Reboot

YES

Video File Extension

MP4

Wi-Fi

Built-in (802.11 b.g.n)

Cloud Compatible

YES

GPS

Built-in (Dual Band : GPS, GLONASS)

Microphone

Built-in

Speaker

Built-in

Impact Sensor

3-Axis Acceleration Sensor

LED Indicators

Recording LED, GPS/BT LED, LTE/Wi-Fi LED, Front Security LED, Proximity Sensing indicator LED

Button

Button: Wi-Fi ON/OFF (Tap)
Proximity sensor: Mic ON/OFF / Trigger Manual Recording / OFF (configurable)

Operation Temperature

-20 °C − 85 °C (-4 °F − 185 °F)

Storage Temperature

-20 °C − 90 °C (-4 °F − 194 °F )

High Temp Cut Off

Approx. 85 °C (185 °F)

Backup Battery

Built-in supercapacitor

Input Power

DC 12V-24V (DC Plug (Ø3.5 x Ø1.1)) to Wires (Black: GND / Yellow: B+ / Red: ACC)

Power Consumption Hour

Normal Mode (WiFi On / GPS On) : 275mA / hour
Normal Mode (WiFi Off / GPS On) : 240mA / hour
Parking Mode (WiFi On / GPS Off) : 220mA / hour
Parking Mode (WiFi Off / GPS Off) : 185mA / hour
* Actual power consumption may vary depending on use conditions and environment

Certifications

FCC, CE, RoHS, Telec, WEEE, IC

software

BlackVue Viewer
* Windows 7 or higher and Mac Yosemite OS X (10.10) or higher

Application

BlackVue Application (Android 5.0 or higher, iOS 9.0 or higher)

Others

Adaptive Format-Free File Management System

Bluetooth

Built-in (V2.1+EDR/4.2)

LTE

External (optional)

Model

Memory Capacity

Image Quality

Resolution

DR750S-1CH

Full HD @ 60 fps

Full HD @ 30 fps

HD @ 30 fps
Front Camera
Hardwiring power cable
Cigarette lighter power cable
microSD card
microSD card reader
Cable clips (5EA)
Double-sided tape for the Mounting Bracket
Pry tool
Quick start guide